Pianist will pay tribute to bebop pioneer
Friday, March 21, 2003
BY ZAN STEWART
Star-Ledger Staff
Toward the end of trumpet vet Ted Curson's monthly jam session at Trumpets in Montclair last week, the leader called an uproariously fast version of alto saxophonist Charlie Parker's bebop anthem, "Confirmation." That decidedly challenging selection was handled deftly by one of the participants, pianist Rob Nissim, who offered listeners strings of phrases chock full of choice notes and packed with a walloping rhythm.
Nissim has chosen bebop, the intricate, demanding and deeply artistic jazz genre that was invented in the '40s by Parker, trumpeter Dizzy Gillespie and pianist- composer Thelonious Monk, as his main musical language.
"It's exciting, it lifts my energy level, it sharpens my mind, it satisfies my appetite for rhythmic, harmonic and melodic variety," Nissim, 44, says from his home in the Riverdale section of the Bronx. "Bebop makes me feel alive."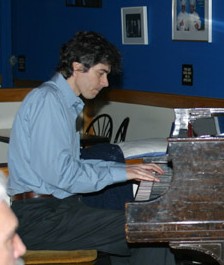 Nissim will celebrate his profound bebop connection when he leads the Bud Powell Tribute Sextet on Thursday at Trumpets. The music will all be by Powell (1924-1966), the premier bop pianist, frequent colleague of Parker and Gillespie and composer of many jazz classics.
Among the tunes that Nissim and his partners will offer are "Parisian Thoroughfare," which imitates the sound and flow of traffic in the City of Light, and the rigorous Latin-tinged "Un Poco Loco." There will also be speedy bop numbers such as the crackling "Webb City" and works like "Strictly Confidential" that reveal Powell's gift for melody.
"There's a sense of extraordinary seriousness about Bud's music," says Nissim, who has led the sextet at the C-Note in Manhattan. "Sometimes it's intense and dramatic, sometimes simple and beautiful. Ultimately, it's balanced and logical and lyrical."
On hand to help Nissim honor Powell will be bassist Fred Zabin, drummer Ai Murakami, trumpeter Matt Brown and baritone saxophonist Bob Curtis, all New York residents, and tenor saxophonist Alex Stein of South Orange.
Nissim relishes the fact that the players range in age from their early 20s to their mid-50s, and come from such diverse climes as Italy, Japan, New York and California. "It shows how when you all have the same focus, the same kind of passion, music can cut across age and background," he says.
Nissim has his own set of international credentials. Born in London to American parents who were devoted music fans, he grew up in Rome. His father, Renzo, was a jazz disc jockey on Italian radio and had met Parker and many others when he lived in New York in the 1940s and '50s. "He had thousands of records, so I was exposed to a terrific variety of jazz when I was a kid," says the pianist, who began playing at age seven.
Still, young Nissim favored mostly pop music until his father played him a track by the great Canadian pianist Oscar Peterson when he was 15. "I was so absolutely amazed by the way this music was put together that I broke down into tears," he says.
Nissim, who also had an affinity for math and physics, grew serious about music in his early 20s. He became interested in a wealth of pianists, from Powell and Wynton Kelly to Herbie Hancock, McCoy Tyner and Bill Evans. Playing with the great American saxophonist Steve Grossman, who has lived in Italy for years, helped move him toward bop. As did a trip to New York in 1993, when he met Weehawken resident Barry Harris, the widely acknowledged dean of bebop piano.
"I went to his workshops (on Manhattan's Upper West Side) and discovered he was an extraordinary teacher," says Nissim, who moved to New York in 2001. "The logic and beauty of what he was teaching, of bebop's infinite creative possibilities, won me over."